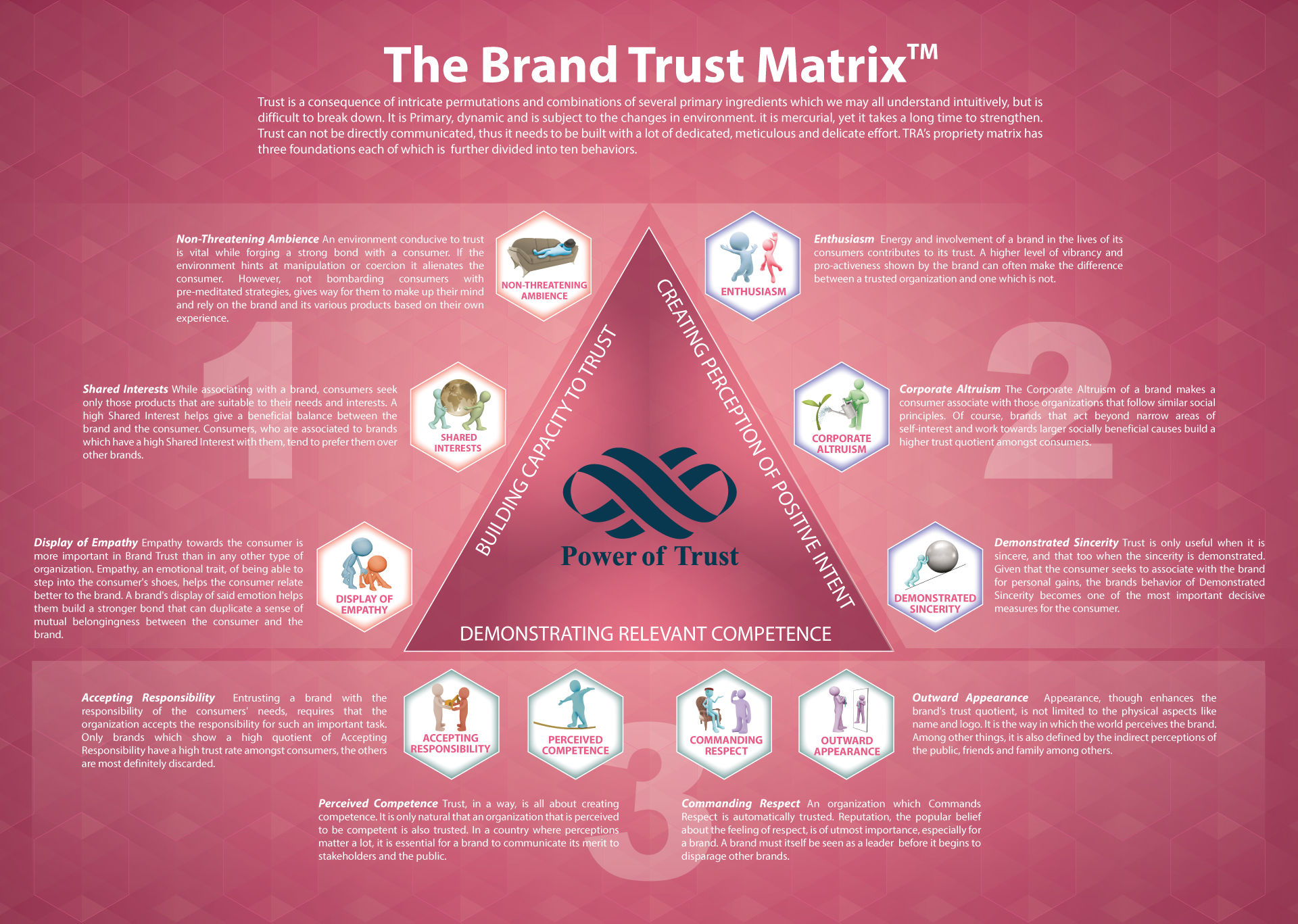 All Rights Reserved
Given the clutter in the field of Communication today, it is essential to be heard above the noise and we at Blue Lotus Communications believe that nothing speaks louder than the absolute truth. We have, since our inception, laid the foundations of all strategy in "Trust". PR is essentially, when you strip it down to a molecular level, a trust-building mechanism.
Understanding Trust in PR
Trust, in its most basic form, is the quality of anything being considered believable. Over time, the evident notations of Trust in business (pedigree, size, performance, and so on) have changed and subtle ones now exert stronger influences. It is essential for a business to understand trust and where it lies on the Trust Matrix to know what Public Relations strategies it can best employ to increase the already existing trust in its stakeholders, to influence a wider newer circle of followers, and most importantly to increase its overall standing in trust.
-Building the Capacity to Trust

The first foundation of trust emphasizes on the need for an entity to create an environment conducive to trust, wherein the eventual goals of the entity are aligned with those of its stakeholders to increase a sense of association that is crucial to developing a sense of mutual understanding and a sense of purpose towards common goals for a congruence of values, beliefs, and thoughts.

-Creating the Perception of Positive Intent

The second foundation deals with one of the key ingredients for the best possible "PR health" prescription for a business entity – to be seen as having a positive impact on its environment and those associated directly or indirectly with it. An enthusiastic entity perceived as actively interested in social good will gather more following as it is seen as working towards the greater good. In several cases, businesses have been revived from the brink of obliteration from the public eye by a well-timed, genuine endeavor towards investing thought and effort towards the betterment of society.

-Demonstrating Relevant Competence

The final foundation of trust deals with a business entity putting their money where their mouth is. It is of utmost importance that the claims of the entity are backed up with strong results. There should be no dissonance between what they are and what they are trying to assert themselves as. A business entity needs to etch its image in the public mind such that they are well respected hence credible, and in case of any pitfall can be relied upon to accept the responsibility and draw from the experience to improve themselves. During times of crisis, it is essential that these aspects are communicated to maintain the image of the business.

Trust can be built, retained, reinforced, and revived regardless of which stage the business is in. If it is a budding new enterprise or an industry stalwart. If it is in times of crisis, reviving its image, or reinforcing its brand image. Or if it is attempting to sustain the trust it has gathered over a period of time or infusing it with a new impetus towards an unchartered territory.
Trust and the Lifestages of Organizations – the Communication Maturity Model
®
To better understand how Trust fits in the scheme of things, one must demarcate which stage the business entity is in to best derive a strategy that will have the highest impact – quite like the stages of social interaction and development in life, where an individual at first only gets a grasp of how to sustain and fulfil his most basic needs of self-preservation.
Stage One – Of Instincts and Conservationism
In the initial stage, a new business's communication depends solely on its instinct-driven strategy and affects only its immediate stakeholders, those who directly impact its survival.
Stage Two – Expanding Horizons
The second stage is where organizations have an outlook to the future, but their perspective is limited to the survival of the organization's next generation. This stage usually reflects a highly competitive growth for companies, where almost everyone in the sector is competing with everyone else. It is essential in this stage to have clutter-breaking communication strategies based on a strong foundation to not only capture mind space in its key stakeholders but also to sustain it for the future. For an organization to mature into the third stage, it must traverse a significant distance in changing its own people's mindset, behavior, and the way they interact with the world.
Stage Three – Knowledge-seekers and Proactive Growers
Companies in the third stage of communication maturity are knowledge organizations; they delve into their past and use this learning to improve their future. Though still largely inward looking, such organizations are willing to learn from other companies within the sector if they get the chance. These transition companies are willing to share the knowledge and they have begun walking the bridge that meets the internal with the external. Such organizations are also operationally driven and pushed by quantitative metrics and maintain a fast growth pace. They are usually progressive and are proactive users of communication.
Stage Four – Inclusive and Holistic
To progress to the fourth stage of maturity, companies must find the communication partner that best understands them to assist them in adopting an inclusive worldview and approach where their worldview transforms from a 'mirror approach' to a 'window approach'. From being exclusive and internally obsessed, the worldview of the organization becomes inclusive and its actions include an active component of learning in their approach to business. Such organizations understand that their survival and that of the sector depends on sharing and collaborating. Competition between companies is less fierce each with a completely differentiated offering.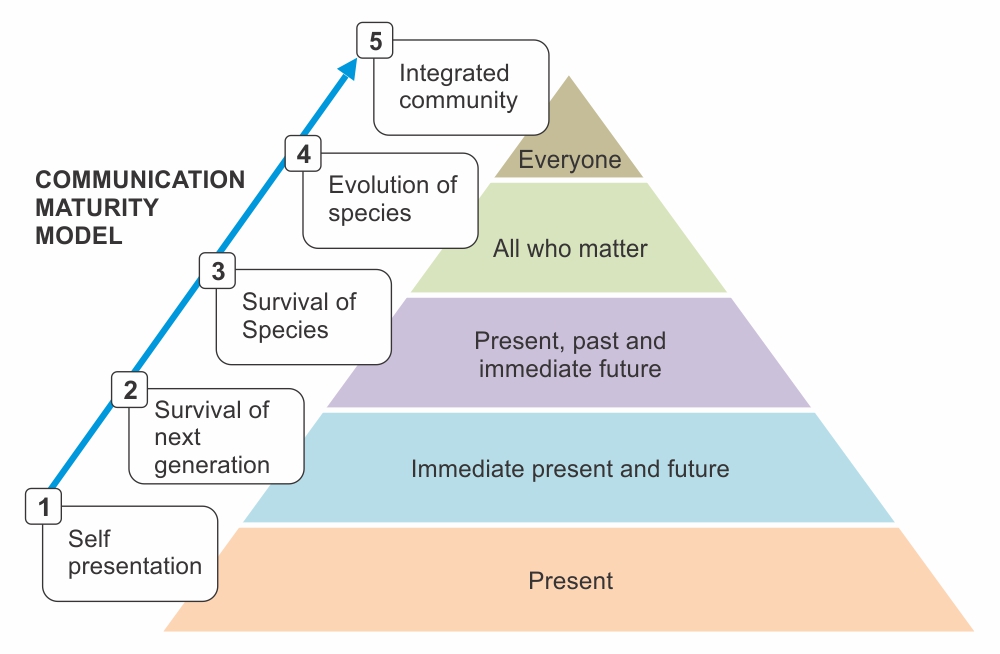 All Rights Reserved
The company attempts to collaborate, share, and innovate in a manner that drives further growth for all. Organizations are seen as sector leaders and act as beacon-bearers for the industry. Such a worldview includes its entire sector with an understanding that the part automatically benefits as a result of any benefit to the whole. The organization's communication with the sector and its stakeholders is now its prime consideration. In this stage of evolution, sharing is abundant, though knowledge crossovers from other sectors remain restricted.
Stage Five – The Ultimate Communicators
The most evolved stage of an organizational worldview is when it understands that every entity impacts every other in some way. The belief that each has the potential to impact the other puts the entire organizational focus solely on intangibles. In this stage, the organization is at a heightened state of awareness and will instinctively do and communicate only the 'right' things. Such organizations are evolved entities. They are extremely goodperformers and the core of their organization is based on knowledge and innovation. They have gained the trust of all audiences, not just their 'targets'. Such companies communicate only what is led by their values and credo. Typically, such entities lead a generation of organizations, people, and thoughts through their actions and communication.
Regardless of which stage the organization is in, it needs the ideal balance of trust for it to sustain and grow, which is dependent on certain key factors – which stage the organization is in, the nature of its industry and the current environment of the category it belongs to, where it lies on the spectrum of trust, and most importantly where it sees itself both in the immediate future as well as its long term goals. At Blue Lotus, we have been successful at understanding organizations, businesses, and personalities for almost a decade now, and we help them achieve their goals of communication.
All Rights Reserved